Safety and wellbeing
As we navigated our second year of the COVID-19 pandemic, we continued to focus strongly on the safety and wellbeing of our people and our customers.
The Safety and Wellbeing team became a single point of contact for all COVID-19 communications, acting as liaison between the Ministry of Health, Public Health Units, District Health Boards (DHB) and our store network, providing consistent guidance and support required to keep our stores open and our communities safe. We set up onsite COVID-19 vaccination clinics for our people, making sure to accommodate shift patterns for our Distribution Centre team members. We also extended support to stores by facilitating priority bookings via their local DHB, and organising onsite vaccinations or access to community-based sites.
Getting our people home safe every day has always been our top priority. Through periods of lockdown and self-isolation, our Safety and Wellbeing team looked after our remote working individuals by providing ergonomic equipment to ensure safe work conditions. We introduced Clearhead, an online one-stop mental wellbeing tool and implemented Pandemic Leave for all employees who were required to isolate so they could take the necessary time off to recover with the assurance of full pay.
In the midst of operating through high-volume trading environments and high-pressure situations to serve our communities, we ended the year with a Lost Time Injury Frequency Rate (LTIFR) of 2.9, thanks to our robust injury management processes and risk management controls. This score is a record low for our co-operative, and a great step forward on our journey to zero harm.

A Tribute to our Supply Chain Team
Throughout the lockdowns and restrictions of FY22, the hard work of our incredible Supply Chain teams made a massive difference in enabling us to deliver for our customers. At the peak of the Omicron outbreak, isolation requirements resulted in smaller teams dealing with record volumes. Despite the immense pressure, our teams came together in a true display of our 'In it Together' value, to keep New Zealanders fed in uncertain times. Here's a snapshot of the awesome work they did in FY22.
Overall, our Landing Drive Distribution Centre (LDDC) outbounded 779,094k pallets and picked 31,570,758 cartons this year.
Our Controlled Temperature Distribution Centre (CTD) picked 1 million units more than the previous year and had zero Lost Time Injuries for FY22.
Our Fresh Distribution centre saw volumes increase by 11% over the Christmas period compared to last year.
At 70 cartons per hour, our Roberts Line Distribution Centre picked 10% more per hour vs last year.
Our Mihaere Drive Distribution Centre picked 10.2 million cases – the highest number picked in its history.
Our FSNI fleet travelled more than 17 million kilometres for the year – that's roughly 23 roundtrips to the moon!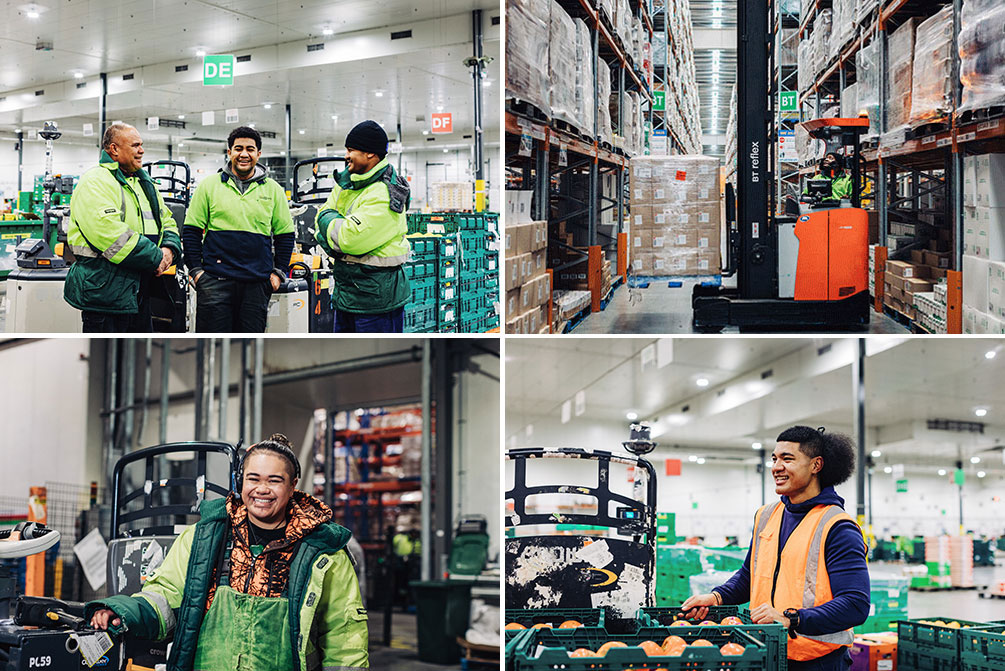 Looking out for each other through 100 years and beyond
Even through a challenging year, our Foodies family have raised over $440,000 for the Foodies Foundation. Out of the Foundation's fund $254,300 went towards supporting 69 Foodies who were experiencing serious difficulties. We're incredibly humbled by the collective impact we can have on the lives of those who need our support, and as always, we are grateful to everyone whose generosity has helped us to make a difference for our team members in times of need.
"To be informed this morning that my family has been given a substantial amount of money from the Foodies Foundation, has absolutely blown my mind. The situation that we are in with my son in critical care is the most heart breaking and traumatic thing. To be given this money to help with accommodation, gas, food etc is just unreal, I don't believe anybody understands how much my family appreciates this gift and what it's going to do for us."
– Foodies Foundation recipient
The many Tribes of Foodies
At Foodstuffs North Island, we have diversity and inclusion networks that we like to call 'tribes'. These are employee networks that have been formed to create a sense of community among Foodies. Here are some of the tribes that have formed over the years:
Foodies Indian Networking Group (FING) is a platform that gives anyone interested in Indian food, dancing and culture the chance to connect. FING aims to celebrate Indian culture and share it with all Foodies.
Future Leaders Advocacy Group (FLAG) is a group of rangatahi or young people in the Co-op whose purpose is to bring diverse thinking to senior leadership decision making and ensure Foodstuffs thrives for future generations.
Women in Leadership at Foodies (WILAF) helps women to thrive and lead at Foodstuffs. They aim to foster an environment that encourages and recognises women's participation from entry-level to leadership roles.
This year we formed a Rainbow Tribe whose mission is to make sure Foodies is a safe and inclusive organisation for everyone. The newly formed tribe have already made a considerable difference in bringing out the colour in our culture, leading the way for the Rainbow community and their allies to celebrate the pride in identifying as LGBTTQIA+. Among all the work that the Rainbow Tribe have started, we're working on the first draft of our new transition policy to support any of our people who are going through the transitioning process, and we made great progress towards the Rainbow Tick Accreditation, which we officially gained in April 2022.
We also welcomed our second cohort of Ruia Te Kākano, our Māori and Pasifika leadership programme for Supply Chain. As part of the 5 -month programme, participants are empowered at grassroots levels to enhance their mana and focus on creating a holistic sense of wellbeing for whanau, hapu and iwi using indigenous values whilst growing their leadership capabilities. One of their projects called for the creation of a Māori and Pasifika network to enhance outcomes for Māori and Pasifika people at Foodies, celebrate key events, and help instil cultural pride into the fabric of Foodies.
Another tribe that's new to Foodstuffs this year is Ablement - a network committed to embracing and valuing every team member living with any personal impairments, activity limitations, and participation restrictions. This provides our people with an inclusive workplace that's aware of what adjustments or support people need to help manage the impact of their impairment.
It's been a wonderful year of celebrating the uniqueness of our Foodies communities. We look forward with excitement to supporting more of the new tribes forming, so that everyone feels welcome in the Foodies whanau.
Building up the future of Foodies
Our year of learning experienced constant interruptions due to COVID lockdowns, but we continued to make progress where we can and used technology solutions for a hybrid learning approach in many of our courses. Among some of our exciting developments is a virtual reality training course, which we're piloting in a few of our stores to teach frontline team members how to deal with aggressive and confrontational customers. The course gives stores the ability to conduct the training fully remotely instore, which gives us more flexibility in our learning approach.

Equipping our leaders for success
Our newly launched Store Mastery Programme was designed to build operational excellence amongst our Store Managers and upskill them in critical business areas such as store leadership, finance, customer driven, coaching and team engagement. This programme is an excellent pathway for those who have ownership aspirations, giving participants a great foundation for preparing for the Trainee Operator Programme.
"The parts of Store Mastery that I thrived on are the ones I'm passionate about too - performance and engagement, how to apply it and really utilise all of those skills back into store - it's all about team and getting things done together and driving things forward."
- Brenda Adams, Store Manager – New World Te Rapa.
Equipping diverse leaders
We are committed to being a co-op that authentically reflects the communities we serve across every inch of our co-operative. This year we've developed a plan for supporting greater gender diversity in our ownership pathways. We're rethinking the way we approach how we communicate our opportunities, how we design our learning programmes, and how we partner with other organisations so we can provide equitable development access to people of all genders.
We have a long road ahead in achieving our aspirations of building a truly diverse membership, and over time we plan to approach other areas of diversity to make leadership opportunities accessible to all aspiring Foodies.
Making the most of remote learning opportunities
In the year since we've launched Learning Central, which houses a range of digital learning resources, we've had more than 1400 eBooks downloaded, 1700 digital courses accessed, and 3400 eLearning modules completed. We've also had 110 leaders from our Support Centre teams attend live events in our Growth Faculty Membership.
Advocacy
As the Delta and Omicron variants of COVID-19 crossed our borders, Foodstuffs continued to work closely with key Government departments to offer our support and to ensure we kept our teams safe and kept delivering food for New Zealanders. Particularly in collaboration with the Ministry of Business Innovation and Employment (MBIE), we gave considerable input to ensure that the grocery industry can operate safely so that Kiwi families could continue to access their everyday grocery essentials.
We advocated strongly for the wide use of Rapid Antigen Testing (RAT) so that more businesses and organisations could continue to trade safely in the COVID-19 environment and look after their people, and we imported them into the country and made them widely available to all NZ businesses at cost price as it was the right thing to do.

Outside of COVID-19, the Government has a major programme to both reduce the risk of climate change and prepare for it. We filed submissions on Waka Kotahi consultations on opportunities to decarbonise the transport sector and extend the use of road-user charges, as well as MBIE consultations on a Sustainable Biofuels Mandate and standards for building insulation. We also supported the Land Transport (Clean Vehicles) Amendment Bill and, in response to the Government's Emissions Reduction Plan. New Zealand's poor waste record is another area of government focus. We filed submissions in response to Ministry for the Environment consultations on a National Waste Strategy and the phase-out of problematic plastics.
The Ministry of Housing and Urban Development consulted on a Policy Statement for Urban Development and our submission emphasised the role that supermarkets play in providing local amenity, essential services, and employment. The Policy was amended to give recognition to the role of essential services. We also supported a National Policy Statement to protect highly productive land from urban development.
We submitted on the ACC's review of levy settings, while input on the annual review of the minimum wage occurred via the peak employer bodies. Plans were confirmed from the Government to introduce fair pay legislation, however this has been delayed due to COVID-19.
The Government introduced a series of temporary immigration measures to alleviate employment pressures due closed borders including changes to visa conditions for supermarket workers and multiple extensions to visa expiry dates. Looking to the mid-term, it announced a policy reset to reduce the country's reliance on migrant labour, raising challenges for employers in the context of low unemployment and labour availability. The Productivity Commission was tasked with looking into longer-term policy and we recommended settings which assist employers to fill skill/labour shortages, with complementary investment in infrastructure to ensure the country has capacity to accommodate population growth.
From a food regulation standpoint, the MBIE finalised the regulations for Country of Origin Labelling with just six months for implementation. Following advocacy, we were granted a 3-month extension. Our submissions on the draft guidance sought considerable changes to improve its clarity and most of these requests were enacted. We were also supportive of regulations for organic products.
With a goal of being smoke-free by 2025, the Ministry of Health consulted on a draft Strategy. We supported more investment in smoking cessation programmes and measures to make tobacco less addictive and less appealing, but opposed the licensing of tobacco retailers, restricting sales to specialist stores, and minimum pricing. Plans to introduce licensing, along with very dramatic reductions in the number of stores permitted to sell tobacco were confirmed, with the legislation to be introduced in 2022.
Following initial consultation in 2020, MBIE engaged us and other stakeholders on a proposal to introduce a 20-day statutory limit for payments and we submitted on the practical issues this would raise. The Government also introduced and passed legislation to regulate payment systems to reduce merchant service fees, which we supported via a Retail NZ submission. The Reserve Bank undertook consultation on the future of cash and we raised issues around the withdrawal of bank retail services which adversely impacts retailers, particularly those in smaller town and rural locations.