Safety and wellbeing
The safety and wellbeing of our people and our customers is our top priority, and the pandemic brought this into sharp focus with most of our stores staying open to serve their communities through lockdown. Along with our laser focus on getting our people and customers through COVID-19 safely, in FY21 we introduced digital safety record keeping as part of our new injury-prevention initiatives
We're committed to improving our Lost Time Injury Frequency Rates (LTIFR), but we ended FY21 with an LTIFR of 4.8, which is above last year's 2.5.
Empowering our people
A new chapter begins at Foodstuffs Landing Drive
This year marked the start of a new chapter in our co-op's history book as we bid a fond farewell to Roma Road after five decades serving our customers from Mt Roskill, and made the move to our new Auckland home at Foodstuffs Landing Drive. While COVID-19 caused havoc around the world, our project teams and partners dug deep when things got tough and still delivered the building on time and on budget, with minimal disruption to our stores.
To be one of the most customer driven retailers in the world, we need an environment with the right safety, technology and design features to easily collaborate, be more efficient, connect, and innovate, and our new home at Foodstuffs Landing Drive enables this.
Foodstuffs Landing Drive brings together our Upper North Island ambient distribution centre operations, Auckland Support centre, Marketing & Customer Experience, Liquorland and Foodstuffs Own Brands teams. It means we can do an even better job of giving New Zealanders more of what matters to them and meet our customers' ever-increasing need for value, availability, choice and convenience.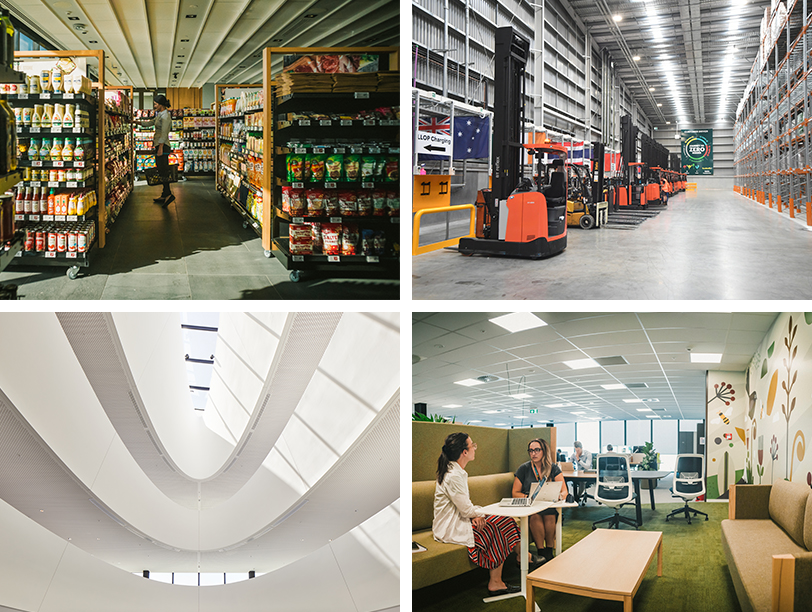 Landing Drive DC
Our Landing Drive DC is the largest distribution centre in New Zealand, and big enough to fit eight rugby fields under one roof. It was designed just for us with safer, smarter and faster ways of working to support our aspiration to become one of the most customer driven retailers in the world. Safety comes first in our Journey to Zero misses, so we have modern, new equipment to help our team get home safe every day.
One clever new safety feature is the semi-robotic wheel lock system that holds trucks on the docks. This stops trucks from rolling back while they are being loaded — keeping our team, trucks and store orders safe.
The DC can fit 74,956 pallets and on average the team receives and racks around 1,200 pallets every day.It also has fully automatic wrapping stations to make it much more efficient to wrap pallets so orders are ready faster for stores. We now have 25 Toyota BT reach trucks with camera and laser technology that can reach up to 12 metres high. The cabs tilt back so our team can avoid neck or back pain.
A lot of smart thinking went into the design, with robotic equipment including Low Level Order Pickers with remote controls. In a first for our co-op, we have a satellite storage system which holds 14,700 pallets and uses automatic pallet shuttles to move pallets.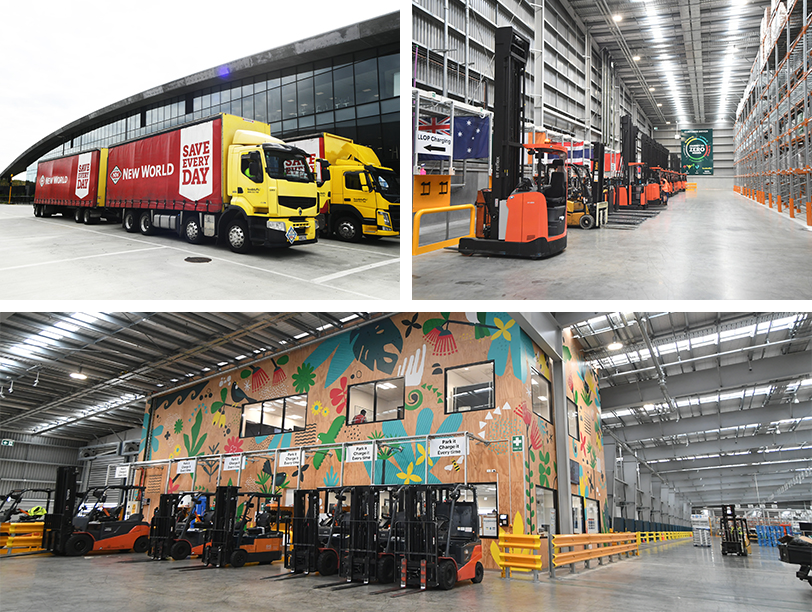 Transition to our newest DC
The move to the Landing Drive DC was a massive job for the transition project team, who closed eight sites, transferred 32,139 pallets, onboarded 355 team members and transitioned 444 suppliers. They did all this without pausing store orders and wrapped up this very smooth transition one week ahead of schedule.
The closure of our Rotorua DC was a significant moment, after 60 years with many generations of Foodies who had been part of the DC whānau. They marked the moment with the amazing team who had kept the DC going to the end.
Features of our new Auckland home
We have the largest solar array in the country on the roof of Landing Drive DC, with 2,915 solar panels powering most of our Foodstuffs Landing Drive building
Our purpose-built conference centre can host anywhere from 10 to 300 people at our events, learning and large meetings
We're grocers at heart, so the Foodies Mart at the front door stocks 1,300 products for our people and visitors. It's yet another way to showcase who we are and how we believe good food helps make sure New Zealanders get more out of life
The purpose-built demonstration kitchen and bar in our innovation hub give us space to visually demonstrate how we are Foodies at heart with our products, brands and suppliers
Sustainability is important to us so all our equipment, forklifts and reach trucks are electric
We have a rainwater harvesting system to provide water for our toilets and gardens
47,000 shrubs and trees were planted

Here for each other, through thick and thin
This year our Foodies Foundation raised $661,036, thanks to the generous efforts of our people across the co-op and a few external friends too. We received 94 applications for support and gave away $230,693 in funding to 69 families.
Here are just a few situations where we were able to support our people in desperate need:
A Foodie with terminal kidney failure, with a very young family, who needed help with paying household bills while in hospital.
Someone lost their house in a fire and needed some help to purchase furniture and other items.
A Foodie whose young daughter passed away due to complications from heart surgery and needed help with funeral costs.
A Foodie who needed support with bond and groceries for her young family following a domestic violence incident.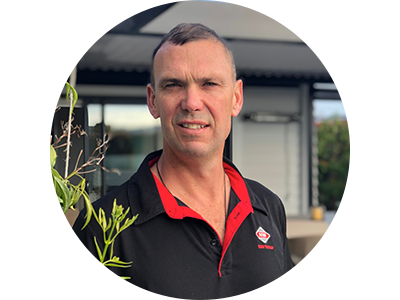 " It's incredibly humbling to be part of the Foodies Foundation and I love the way it's enabling us to meaningfully help our people. The things people get faced with can be truly awful but with the support of so many people and the passion and commitment of our Trustee group, it's also hugely rewarding to see the difference we're able to make. People are often in tears when we tell them that funding has been approved and it makes me proud to be part of a co-op that looks after its people with such generosity, compassion and aroha."
– Wade Brown (Chair)
Our year at the Foodies Foundation
We introduced payroll contributions so our teams could regularly donate via automatic payment directly from their pay.
We farewelled Ewan Atherton, Owner Operator of PAK'nSAVE Gisborne, who did an outstanding job of establishing the Foundation, and Cindy Chaimowitz as one of our Trustees and Vice Chair.
The Foundation welcomed Wade Brown, Owner Operator of New World Kumeu, to the role of Chair and Ricky Bowen, Owner Operator of New World Kawerau, as our new Trustee.
We ran a Christmas campaign to bring a little joy to those who had faced some tough circumstances – here's one of the thank you notes we received:
"I am a single mother with three kids. I've been away from my kids for almost 4 years. This year I struggled financially as I had to pay almost $20,000 for the processing of our residency visa application and renewal of work visa. But I'm so blessed and lucky that my kids arrived in New Zealand just before my home country declared lockdown. As a single parent with three kids, it's not easy to start a new life here. Christmas is days away, and my kids keep on asking me what we're going to prepare and about their Christmas presents but I cannot commit because I'm on a tight budget. But today, after doing my tasks in the cashroom I found an envelope on my desk, and to my surprise, I'd received a gift card worth $250 from the Foodies Foundation. Foodies Foundation, just to let you know that you have gifted us a beautiful present this Christmas. It's our first Christmas together after 4 long years and my kids' first Christmas in New Zealand. You put colour into our Christmas – thank you so much for the blessings."
– Store team member
Building a more diverse and inclusive future
We have an incredibly diverse team of 25,000 from all walks of life across the North Island, and we want every person to feel included and valued. This year we made a big step towards a more diverse and inclusive co-op with the creation of a Diversity and Inclusion Working Group. Made up of 12 passionate individuals from all parts of the business, this group has created a five-year diversity and inclusion framework and a commitment statement to guide us on this journey.
Our Diversity and Inclusion Commitment

We are committed to being a co-op that authentically reflects the communities we serve across every inch of our co-op. We welcome courageous behaviour, encourage togetherness, inspire our people to be their best selves in our Foodies whānau, but most importantly we celebrate our people – our taonga, every day for being uniquely them.
Selecting our grocers of the future
During FY21 we made some exciting changes to the way we select our grocers of the future, reflecting their role in today's environment and the increasing importance of technology and data.
We evolved our Owner Operator competencies from a decade ago into a more modern version with language and definitions that align more with how we operate as individuals, lead our people and work together.
Then we revamped our Trainee Operator selection process to make sure we're finding and selecting our future Owner Operators in a rigorous, fair and consistent way. These changes included evolving the nomination criteria, rebuilding our case study, role plays and interviews to match our new competencies, and more feedback and development support for nominees as they go through the process.

Transforming learning at Foodies
This year we started transforming the way Foodies learn to build a community of customer driven leaders worth following, a retail centre of excellence and more accessible on-demand and in-time learning.
Customer driven leaders worth following
We launched Building a Coaching Culture for our support centre leaders to promote a coaching culture, while embedding customer driven and the customer promises into all our leadership programmes.
Another exciting leadership initiative in our Landing Drive DC this year was the launch of Ruia te Kākano, Sow the Seed. This is our inaugural programme for upcoming Māori and Pacific leaders in partnership with Indigenous Growth. It's already making great progress in increasing diversity and engagement, with our first 15 graduates finishing their six-month programme during the year.
"When I started my journey in the Ruia te Kākano programme, I expected and was ready to learn and gain skills that would help me succeed at work and become a better leader. What I didn't expect was how it would change and improve my home life. Ruia te Kākano challenged me to look at all aspects of my life through the lens of Te ao Māori. It encouraged me to utilise tikanga and kawa my tūpuna put in place a long time before me and connect back to my culture."
– Anita Te Amo, Process & Systems Team Lead, Foodstuffs North Island Transport
Retail centre of excellence
Our focus is on nurturing retail careers and promoting work worth doing, so we introduced a new Foodies Apprenticeship in Retail this year to cover general retailing skills and knowledge with a Level 4 qualification.
This gives store team members a new career path outside of the traditional butchery and bakery, and we reached 30 enrolments for this exciting new apprenticeship during the year. We've also made more online resources and qualifications available to support our store teams on their learning journeys.
More accessible on-demand and in-time learning
We launched Learning Central during the year, where our people can choose from a range of workshops, online modules, e-books and audiobooks to continue their learning journeys and shape their own meaningful careers at Foodies. More than 3,500 digital resources are now accessible for our people along with freely available learning online.

Advocacy
The first months of the year were dominated by COVID-19 and coordinating our response with Government. The national advocacy team worked with both co-ops to line up our store protocols and have them signed off by the Ministry of Health and Ministry of Primary Industries, and facilitated the urgent supply of PPE from Government on a loan before our own PPE supplies arrived from overseas.
We also got temporary exemptions for a raft of regulations unable to be complied with under lockdown, secured short-term changes to visa conditions for supermarket workers, got priority Customs clearance for food and other imported grocery lines, liaised with the Government's FMCG and Supply Chain Group, and worked with the National Emergency Management Agency and Ministry of Social Development to facilitate the supply of emergency provisions for those most in need. This strengthened our relationships with these agencies.
Our public policy work streams took a backseat during the initial COVID-19 response, but recommenced in earnest mid-year. Employment law reform has been a key focus of the Government's policy agenda. The minimum wage was increased, the Equal Pay Amendment Act 2020 was passed under urgency to introduce pay equity claims, and a Bill to extend sick leave to 10 days each year was introduced, as well as a 28-point action plan to tackle modern slavery.
Addressing modern slavery, we joined other businesses in calling on Government to introduce modern slavery legislation, committed to introducing a social practice standard for domestic horticultural suppliers, and tackling modern slavery more broadly in supply chains.
Food regulation is always a focus and this year was no exception. The Trans-Tasman Food Regulation Council completed a five-year review of Health Star Rating, bringing in changes to increase the distinction between healthier and less healthy food. While this has high compliance costs for our Private Label, we supported the changes which benefit customers and are committed to rolling out these labels on all eligible Private Label products. In a similar vein, we supported enhancements to allergen labelling and Plain English Allergen Labelling will be rolled out over the next three years. The decision to regulate organic products also progressed with the passage of enabling legislation. Our submission was generally supportive but requested some changes, mainly the strengthening of industry input into the development of organic standards.

The Government passed a Smoke-free Environments and Regulated Products (Vaping) Amendment Act to regulate sales of vaping and smokeless tobacco products. We called for the regulation of these products some years ago and welcomed this and filed submissions.
The Government also progressed several pieces of legislative reform to enhance fair trade. This included draft amendments to the Fair Trading Act 1986 to prohibit unconscionable conduct and unfair contract terms, proposals to regulate commercial payment terms to protect SME interests, and proposals to regulate merchant service fees for card services. We either contributed to the submissions of the major business associations or submitted directly. Government also passed the Fuel Industry Act 2020 and we submitted on proposed regulation of price board displays.
Environment protection was another priority for the Government, which declared a Climate Change Emergency. We contributed to preliminary work on the design of a container recovery scheme for beverage containers, a Ministry for the Environment consultation about increases to the waste levy, and proposals to phase out hard-to-recycle plastic packaging and single-use plastic items such as straws. We supported the proposals in principle, because of our sustainability leadership, and started the voluntary phase-out of some items. We also contributed to the Climate Leaders' Coalition's submission on the Climate Change Commission's draft advice on carbon budgets required under the Zero Carbon Act, and were largely supportive of the plans.